The teepee wedding season has begun! We have had a fun month of running stunning teepee events, setting up great mobile bars and staffing some DIY weddings. We've also bartended many parties, dry hired draught equipment and mobile bar sections, run cocktail masterclasses and ran some wine tastings too. Here's our favourite picture of a wedding teepee install: (Anthony sat in his harness, just chilling out).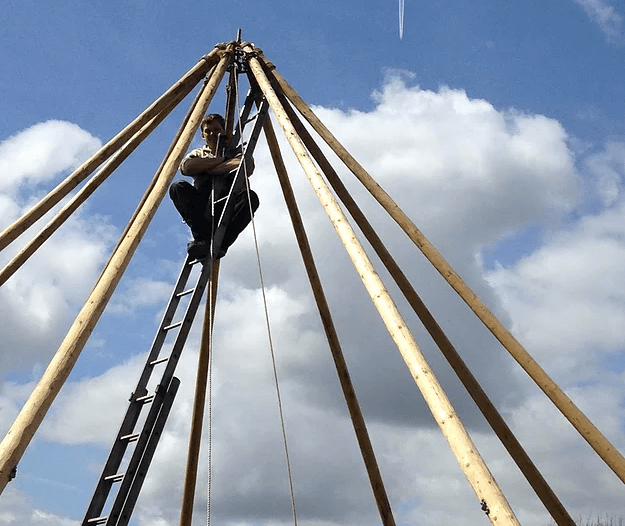 Wedding Teepee Hire
The most recent teepee hire was to a lady in Wetherby, she wanted a festival style teepee party in her back garden. We installed 2 giant teepees, a fire pit, tables & benches, a stage, dance floor, fairy & festoon Lights, and ran a full free bar for her.
Woodland Wedding Teepee Hire
We have just set up one teepee in Applewood Weddings, Scholes. This is a stunning woodland venue made to look even better (if possible) with a giant teepee in it! We have many more teepee weddings booked here so keep an eye out for more pictures to come. If you want to contact Applewood Weddings check out our suppliers page. Below are (naked) pictures of our teepee, pre-decorations and fittings.
Full Mobile Bar Hire
In May we ran a full mobile wedding bar in Richmond, North Yorkshire. We supplied all their table wines (which meant they had a free wine tasting with us to help them pick), we prepared around 200 welcome cocktails and handed out over 100 glasses of fizz and whiskey shots for their toasts! This is all alongside running a full bar with cold draught lager and ale, cocktails, wines, spirits and softs. Needless to say they had a great night... well looking at the bar tab they ran up!